Mad love to all of my CRDS readers and many thanks for the e-mails I have been getting from longtime fans of the blog, it's really quite humbling...alright so it's a chilled Friday night after a busy week at work, a nice cider, some nibbles and a BDP compilation in my headphones, sounding lovely and getting me more and more hyped for the upcoming KRS One tour next month in Wellington (I was just listening to "Criminal Minded" and remember that the MVC Posse and myself once did a sting for the Weds Nite Jam over a sample of that back in the days, I don't have it anymore so I can't share it but I will always have the memories) not to mention a couple of dope gigs I have upcoming with my crew Evil Mule

in April and May.



So without further ado, here are some things I would appreciate you paying attention too...
and speaking of
Mello Music Group the label has just released this smorgasbord of dopeness
Apollo Brown, Black Milk, Gensu Dean, illMind, Nick Tha 1Da,
Georgia Anne Muldrow, Def Dee, and Dunc of DTMD.
And new vocal tracks from
OC, Boog Brown, Wise Intelligent, Black Milk, yU, Kenn Starr,
Oddisee, Finale, Hassaan Mackey, Roc Marciano, Toine of DTMD, and Stik Figa.
The legendary Digger/DJ and MC
Phill Most Chill'
s long awaited
Fast Rap EP
is now available for purchase! 4 fast and funky tracks made the way only Phill can! Produced by Bankrupt Europeans, with
DJ Jazz T
(UK ITF Champion) on the cuts. Sticker sleeve (remake of the classic
Main Source
'Fakin' The Funk' sticker). Limited copies – when they're gone, they're gone! This is the first release on the Bankrupt Europeans' own label Nobody-Buys-Records
DJ Snafu
also informed me that there will they will be releasing
Demigodz
MC
Rise'
s official debut LP
The Cornerstone
in the near future
.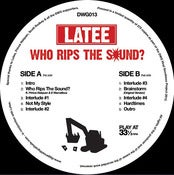 DWG
have got a crazy dope exclusive EP with unreleased material from former
Flavor Unit
member
Latee
(aka Lati) very limited, the red vinyl edition has sold out but the black vinyl is still in stock.
and last but certainly not least...straight raw promo video for the upcoming
DJ Premier
and
Bumpy Knuckles
-
Kolexxxion
LP.